Nonsense, general nonsense, random randomness and more (or, maybe, less depending on your point of view).
August 25, 2014
June 26, 2014
June 3, 2014
The most 'Berbatov' goal ever?
April 18, 2014
April 14, 2014
Tonight…

Get out the rocks glasses, it's gonna be a bumpy night!
April 1, 2014
March 29, 2014
Diamondbacks selling $25 D-Bat Dog
The Arizona Diamondbacks are the latest team to go big at the concession stand.
Team officials revealed to ESPN.com its new D-Bat Dog, which it will sell at Chase Field this season.
[+] Enlarge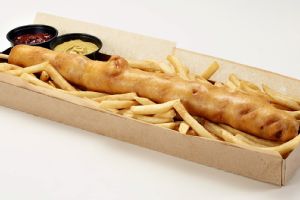 The D-backs will sell the D-Bat Dog — an 18-inch corn dog stuffed with cheddar cheese, jalapenos and bacon, served with a side of fries — for $25.
March 29, 2014
Tender by Blur… with some unlikely collaborators
March 18, 2014
This Is A Trent Reznor Song (Freddy Song)
March 17, 2014
Boba Fett Posters coll.01